Haruki Murakami will be signing copies of
Colorless Tsukuru Tazaki
in Waterstones Picadilly in London on August 30 at 11am.
The bookstore must be expecting a great turnout, since the website lists strict rules describing how the event will be organized.
Terms and conditions
Haruki Murakami will be signing copies of Colorless Tsukuru Tazaki and His Years of Pilgrimage at Waterstones Piccadilly on Saturday 30th August at 11am. Please arrive early to avoid disappointment.
Due to time constraints Haruki Murakami will sign a strictly limited number of copies only.
Customers will receive their wristband for this event when they purchase Colorless Tsukuru Tazaki and His Years of Pilgrimage on Saturday 30th August at 8.30am, or when they bring a valid Waterstones receipt/Waterstones.com despatch note with their copy on the day of the signing.
One wristband will be issued per customer, on a first come first served basis, and are non-transferable.
The first 200 people in the queue will have the opportunity to meet Haruki Murakami on the day and have their book signed and dedicated, (name only). Please note books for signing are limited to one copy of Colorless Tsukuru Tazaki and His Years of Pilgrimage per person, in order to accommodate as many of our Haruki Murkami's fans as possible.
Those who are not lucky enough to meet Haruki Murakami on the day, will be guaranteed the opportunity to buy a rare pre-signed edition. These will be limited to 200 copies only, one per person.
Please note that no photographs or cameras are allowed.
We are expecting a large number of customers to attend this event and wristbands are limited, we hope to be able to allow as many people the opportunity to have their book signed, however please note Waterstones cannot guarantee entry.
The signing time is discretionary. All details are subject to change.
To see the whole announcement, go to:
http://www.waterstones.com/waterstonesweb/pages/2645/
Murakami will also be signing books during the International Book Festival in Edinburgh following a book launch on August 24th 6:30-7:30. I heard through the grapevine that the tickets disappeared within a few minutes after going on sale.
HARUKI MURAKAMI
Sun 24 Aug 6:30pm - 7:30pm
Baillie Gifford Main Theatre
£10.00,
£8.00
SOLD OUT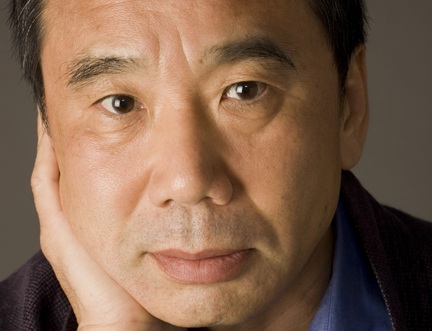 JAPAN'S GREATEST LIVING AUTHOR
Haruki Murakami has been described as 'Japan's version of JD Salinger' – a rarely-interviewed author with an enormous worldwide following thanks to books including Norwegian Wood and 1Q84. He joins us in Edinburgh for the worldwide English-language launch of his new novel, Colorless Tsukuru Tazaki and His Years of Pilgrimage, which sold more than 1 million copies in the week after its release in Japan.
Please note: the book signing after this event will be restricted to a limited number of ticket holders.
https://www.edbookfest.co.uk/the-festival/whats-on/haruki-murakami